Download Article
As healthcare leaders look for ways to better control costs, physician well-being is emerging as one of the wisest investments an organization can make.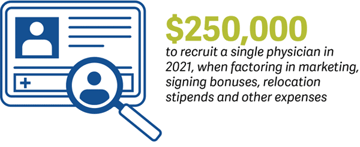 Healthcare leaders feel the pressure to keep their organization financially viable; investing in physician well-being helps avoid substantial direct and indirect costs for the organization.
In this article, Mitchell Best, VITAL WorkLife CEO, looks at the impact of physician burnout and the importance of a well-being program. From productivity to patient safety and satisfaction, a well-being program can impact the quality and cost of care along with the viability of the organization in both the near and long-term.
Download our article, Investing in Physician Well-Being: the Smart Business Choice, by Mitchell Best, VITAL WorkLife CEO, to learn more about how your organization can take steps to invest in your most crucial asset—your physicians.